Lose yourself in the beautiful design of the Barcelona Chair (White). This chair takes design to the next level. We have the best Barcelona replica that you can find.
This type of Barcelona Chair says it all with its looks: nobody needs to be convinced of its superiority. The combination of the minimalistic design and the detailed finish predicts that you can comfortably sit in it during the whole night. Nobody is surprised that the comfort level of this Barcelona Chair can only be described as exceptional.
Are you also in love with this Mies van der Rohe chair? You can find the best Barcelona Chair Replica available at our website. We have used comparable materials, so this chair comes as close to the original as possible.
You can never go wrong with the Barcelona Chair in white
Have you always wanted to have a design classic in your house? The Mies van der Rohe chair is one of the few chairs of which the replicas are produced with the best quality.
The white version can be used in any setting: it will match with any interior. The white chair is made with the best cowhides available and is a piece of art. Even if you are not sitting in the chair, it will brighten your day.
The goal of the Barcelona Chair Replica is not to scream for attention, but to impress you with its high quality once you take a seat. Whether it is in the office or at home, this chair fits in any interior: from industrial to modern.
Do you even want to take it to the next level and buy a Barcelona Chair that is completely identical to the original? Our Premium-series is exactly what you are looking for. It has leather of the highest quality, you will sit like never before and you will have a full warranty for 5 years.
Affordable quality for everyone
It is our mission to create a Barcelona Chair of the best quality that is affordable for everyone. After visiting 18 factories, we are proud to say that we have the best replica Barcelona Chairs that are available!
Delivery & maintenance
The white Barcelona Chair comes packed in 1 big box in which you can find the frame and the cushion. Within 60 seconds you will be able to enjoy your design chair: the cushions of the Barcelona Chair (white) are easy to secure on the frame.
Barcelona Chair in a nutshell
Iconic design
Classical cushions made of leather (cow) with the backside made of artificial leather
Stainless steel frame (chrome)
Easy to construct and maintain
Two-year warranty
Free shipping and returns!
ALL THE BENEFITS IN A ROW
Excellent price/quality
Real cow hide
Incl. FREE floor protectors (worth Û20.00)
Full 2-year warranty, lifetime warranty on the frame
Specifications
| | |
| --- | --- |
| Material frame | Stainless steel with a steel core |
| Material cushions | Leather, Backside artificial leather |
| Material straps | Artificial leather |
| Thickness of steel | 12 mm |
| Dimensions (WxDxH) | 79 x 79 x 85 cm |
| Dimensions (WxDxH) FRAME ONLY | 75 x 77 x 74 cm |
| Back height | 85 cm |
| Seat height | 50 cm |
| Warranty | 2 years |
| Delivery time | Orders before 23:59 are shipped out the same business day |
Why the Premium Chair?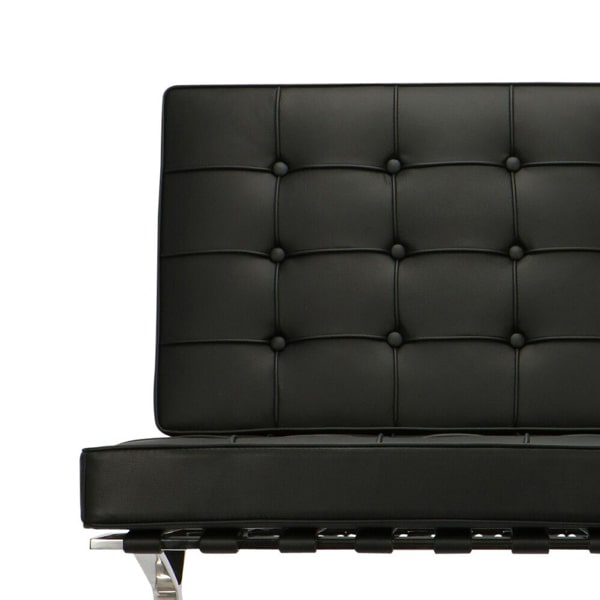 Cushion: Leather

Available colors:

2-year warranty

Frame: chromed stainless steel

Free plastic floor protectors

Free leather maintenance set

1 on 1 with the original
Our Bestbuy Barcelona Chair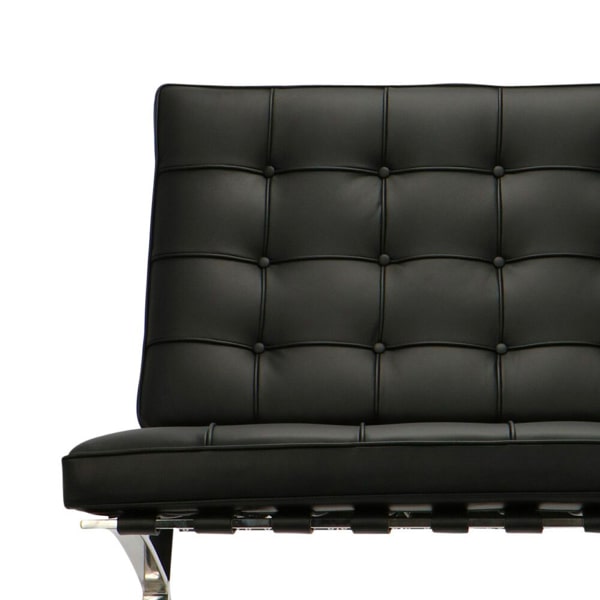 Cushion: 100 % Aniline leather

Available colors:

5-year warranty

Frame: polished stainless steel

Free invisible felt floor protectors

Free leather maintenance set (worth €24,95)

1 on 1 with the original
Our Premium Barcelona Chair